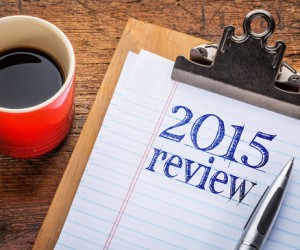 For anyone in need of New Year's reading, these were some of our favourite articles of the past year.
The U.S. stock market will finish 2015, just about where it started the year. But that doesn't mean that there hasn't been plenty of excitement along the way, especially in the ETF world. As the year draws to a close, I've put together 50 of my favourite ETF-related articles from the past year.
These articles are all over the board in terms of topics and complexity (and some of them relate only loosely to ETFs). But all were entertaining, insightful, or educational in my mind — and certainly worth sharing.
This list is broken into ten different sections (plus a break for comic relief at the midway point). If you have any to add, please share in the comments below.
Active vs. Passive
The merits of passive indexing and active management continue to be hotly debated. Below are several articles summarizing the latest rounds in this fight:
Forget "Active vs. Passive": It's All About Factors

: This post compiles an incredible amount of research and data on active management and indexing strategies.

Alpha Wounds: Passive Management Is Not Passive

: Jason Voss offers unique insights on "deworsification," free passes, and how active managers could learn from indexing (and improve their performance).

Bogle on big funds

: High fees rip off investors: Mitch Tuchman walks through the fuzzy math some money managers use to make their fees seem palatable.

The index investor's road map for avoiding financial hazards

: Monevator published a thorough introduction to index investing.

Two Index Fund Studies Remind Us of One Good Strategy

: Rick Ferri walks readers through a couple of annual studies, providing a concise summary of the verdict handed down.

Why Indexing Beats Stock-Picking

: A trio of authors outlines a recently published research paper, which proposes that active managers fail to match benchmarks in part because they often miss out on the handful of stocks that account for the lion's share of positive performance.

The Myth of Fund Manager Outperformance

: Dan Solin gives a nice rundown of the latest evidence in favour of indexing and offers a few explanations for why so many investors still try to beat the market.

Measure for Measure, Index Funds Rule

: Jeff Sommer summarizes yet another study demonstrating indexing superiority and discusses some additional drawbacks of active management as well.

How Big, Cheap, and Active Beats Passive

: Gil Weinreich summarizes a Fidelity study proposing that some basic screens of active managers can significantly improve the odds of beating a passive index.

Avoid Investors' Superlatives by Sticking with Index Funds

: Bill Schultheis examines some old clichés in a discussion on uncluttering our lives.
Smart Beta
Smart-beta turned out to be one of the most widely-searched and discussed investing themes of 2015, and several ETFs tapping into this approach were launched and gathered assets. Below are several articles that discuss the pros and (mostly) cons of these strategies:
11. In investing, forget smart beta — try dumb alpha! Brett Arends proposes an alternative to smart beta that is probably less marketable but has historically been more successful.
12. Inside The 'Smart Beta' Hype: Larry Swedroe takes investors back to the beginning to understand the "evolution" to smart beta products.
13.Why 'Smart Beta' Is Really Dumb: Michael Edesess weaves together insights from Eugene Fama, Kenneth French, and William Sharpe to break down the smart beta boom.
Currency Hedged ETFs
Currency hedging was another popular topic in 2015, with a number of firms launching their own twists on this investing idea. The articles below sum up the appeal of this strategy (along with some potential drawbacks):
14. Arguing with Jeremy Schwartz about Currency Hedging: Corey Hoffstein shares his thoughts on currency hedging after a lengthy conversation with Jeremy Schwartz of WisdomTree.
15. Performance Gap: Marla Brill gathers up a number of different opinions on currency hedging.
16. Beware the Currency Hedge: Bill Bernstein offers his opinion on the currency hedging craze, which he worries may serve as yet another distraction for investors.
Bond ETFs
Fixed-income ETFs made surprisingly frequent appearances in the headlines during 2015, thanks to a long-awaited Fed rate hike and a meltdown in junk bonds. These articles covered a range of issues related to bond funds:
17. No Pain, No Gain: The Only Cure for Low Bond Returns is Rising Rates: Charlie Bilello put together an outstanding note on what rising rates actually mean for bonds over the intermediate and long term.
18. Carl Icahn vs. Larry Fink: Should advisers fear junk bonds? Jeff Benjamin gives a nice overview of the feud between Carl Icahn and BlakcRock CEO Laurence Fink.
19. How Illiquid Are Bond ETFs, Really? Dave Nadig gets technical and explains everything you'd ever want to know about how bond ETFs work.
20. A Tale of Two Liquidities: Matt Levine examines two different kinds of illiquidity and discusses the strange ETF trading activity.
ETMFs
No, that's not a typo. Though exchange-traded mutual funds aren't here yet, much of the foundation for these products was laid in 2015. Below are a couple of articles that provide the background on the latest fund evolution:
21. 4 things to know about the fund industry's new, opaque creation: Victor Reklaitis hits the important features of ETMFs, including their potential boost to stock pickers.
22. Seeing through the ETF argument in favour of transparency: Eaton Vance CEO Tom Faust examines transparency of ETFs and mutual funds, outlining the rationale for developing ETMFs.
23. Why Transparency Matters and the Merits of Exchange-Traded Funds: Noah Hamman, CEO of AdvisorShares, offers a rebuttal to Faust, taking a deep dive into the concept of transparency and fees across various types of investing vehicles.
Comic Relief
At the halfway point of the list, here's a post that I found both amusing and insightful:
24. Investor on Investor Crime: Adam Kurkiewicz offers an entertaining take on the ongoing feud between active and passive investors.
ETFs Under Fire
ETFs also came under fire in 2015, as concerns about the complexity of products, trading mechanisms, and other potential pitfalls popped up.
25. Should You Fear the ETF? Ari Weinberg put together an outstanding summary of the questions surrounding ETFs at present and worked in a bit of a history lesson as well.
26. ETFs Don't Kill Investors, Investors Kill Investors: Cullen Roche drives home the point that ETFs don't make investors immune to mistakes — and they, in fact, create all sorts of opportunities to lose money.
27. Competition to Launch the Most Complicated ETF Heats Up: Josh Brown takes a look at the "creative destruction" in ETF land, highlighting how many ETFs hitting the market or in development are useless to actual investors.
28. New 'Twitter ETF' sounds crazy, but it's actually dangerous: Chuck Jaffe lays into a proposed ETF idea, illustrating more broadly how "the rapid expansion of ETF investments can expose investors to unusual ideas that may or may not be reasonable financial moves."
29. The Challenge of Vetting ETF Strategists: Daisy Maxey tells a cautionary tale of handing over control to ETF strategists.
30. Wild market volatility puts fresh focus on the workings of ETFs: Trevor Hunnicutt summarizes one of the more chaotic trading days of the year, explaining what went wrong with some ETFs.
ETF Flash Crash 2.0
The market meltdown of August 2015 put a bright spotlight on ETFs — especially those that saw strange trading activity. These articles provide a nice recap of those events:
31. Funds Industry Nursing Black Eyes: Chris Dieterich published a thorough recap of the August 2015 ETF "crash," giving a good summary of what happened and why.
32. The ETF Flash Crash: Ben Carlson provides a thoughtful analysis of what exactly sent the prices of many ETFs haywire for a few minutes in August and offers a few pieces of advice for avoiding losses from similar events in the future.
Robo-Advisors
Robo-advisors were a major story in 2015, with these platforms attracting billions of dollars along with plenty of criticism. Below are a few articles that provide an overview of the good, bad, and ugly of robos.
33. Why investors should approach robo advisers with caution: Victor Reklaitis gives a crash course in robo-advisors, explaining how investors should approach these services.
34. Broken Values & Bottom Lines: Wealthfront CEO Adam Nash wrote a scathing review of Schwab's foray into the robo-advisory space, highlighting the nuances associated with these services.
35. Putting Robo Advisers to the Test: Liz Moyer put together an exhaustive review of the various robo-advisors, illustrating the extent to which different platforms can deliver very different advice.
ETF Industry
The ups and downs of the ETF industry ultimately don't mean all that much for investors, but all of these articles should be interesting reads for ETF nerds (such as myself):
36. What's Next for ETF Provider WisdomTree: Chris Dieterich tells the fascinating story of WisdomTree, the only pure-play publicly-traded ETF issuer.
37. Vanguard's Gain Is Wall Street's Pain as Billions Leave the Financial Industry: Eric Balchunas details an aspect of the ETF boom not often discussed — the impact on Wall Street's bottom line. (Not surprisingly, Jack Bogle loved this piece and even indicated the impact may be understated.)
38. A Sense of History: Speaking of Jack Bogle, this short post contains a few great nuggets about the early days of Vanguard.
39. Active Managers Losing Ground Can Thank John Bogle: Julie Segal serves up a bit of history on indexing and then dives into a great interview with the always insightful Jack Bogle.
40. 500 ETF Closures: Ron Rowland puts out a jam-packed article each month detailing launches, closures, and everything else happening in the ETF industry. This one-off article from May noted an interesting milestone for the ETF industry.
41. Roaring ahead: The Economist notes an interesting milestone for the ETF industry.
Odds and Ends
This last group of articles covers a wide range of topics. Some of these articles relate only tangentially to ETFs, while others get deep into the details:
42. Does Tax Loss Harvesting "Almost" Substantially Identical Mutual Funds And ETFs Trigger A Wash Sale Problem? Michael Kitces answers this tax-related question with an in-depth discussion of IRS policy and how it applies to ETFs.
43. Passive, but Powerful: How Index Funds Exercise Their Clout: A study by Wharton faculty members highlights a perhaps unexpected side effect of indexing: impacts on corporate governance policies at individual companies.
44. ETFs: Tax-Efficient, Not Tax-Exempt: Ben Johnson of Morningstar gives a great year-end refresher on the tax features of ETFs.
45. The Case Against Commodities: Dan Egan makes a compelling argument against adding commodity exposure to portfolios based on historical return data and an examination of effectiveness (or lack thereof) as an inflation hedge.
46. ETF Cores and Satellites: Ron DeLegge penned a nice primer to drive home an important point — not all ETFs belong as a major holding in your portfolio.
47. A $1.75 Million Portfolio Weighed Down by Fees: Ron also publishes regular "portfolio exams" of actual strategies that he sees in clients. These "before" account snapshots are usually terrifying, but his suggestions are always valuable.
48. Is Your Financial Advisor a Fiduciary? Brett Carson provides a great overview of an extremely important story that has seemingly received very little attention in 2015.
49. Wasting Time: Jonathan Clements does a quick analysis on the MSCI World Index and concludes with some brilliant, simple advice.
50. Don't Let the Status Quo Stop You: Carl Richards uses a family cabin to details costly biases in investing and ways to break free from the familiar.
For more ETF insights, check out our 101 ETF Investing Tips from the Experts. I also published a summary of some of my favourite investing insights from 2015.
And if you have another article that you enjoyed from 2015, please leave a link in the comments below. I'm sure I've missed a few along the way.